Make your portfolio
more beautiful
without any struggles
with no struggles
Just select Black or White design and upload your photos
- Learn more -
Check our best features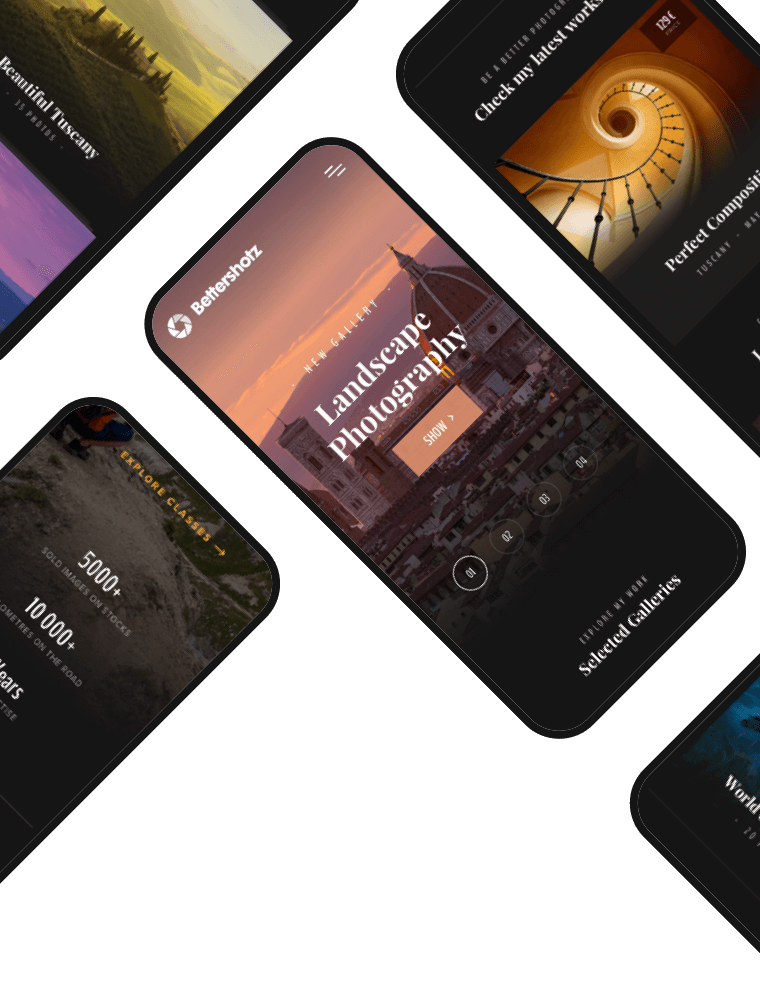 Perfectly responsive
All our themes are perfectly responsive so your visitors can check your portfolio at any computer or mobile device
Black & white looks
We offer black and white versions of the template, so you can choose what suits your portfolio best and also you have the opportunity to change the look at anytime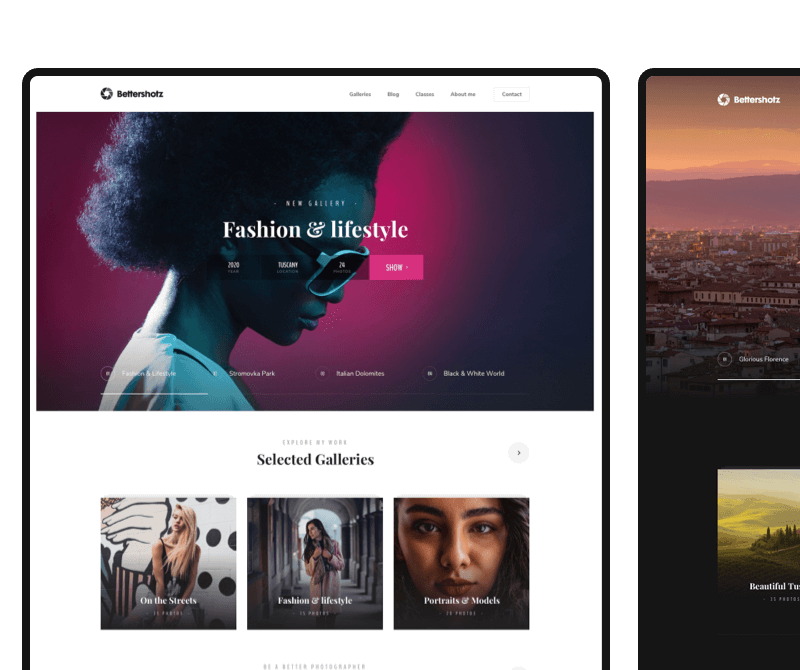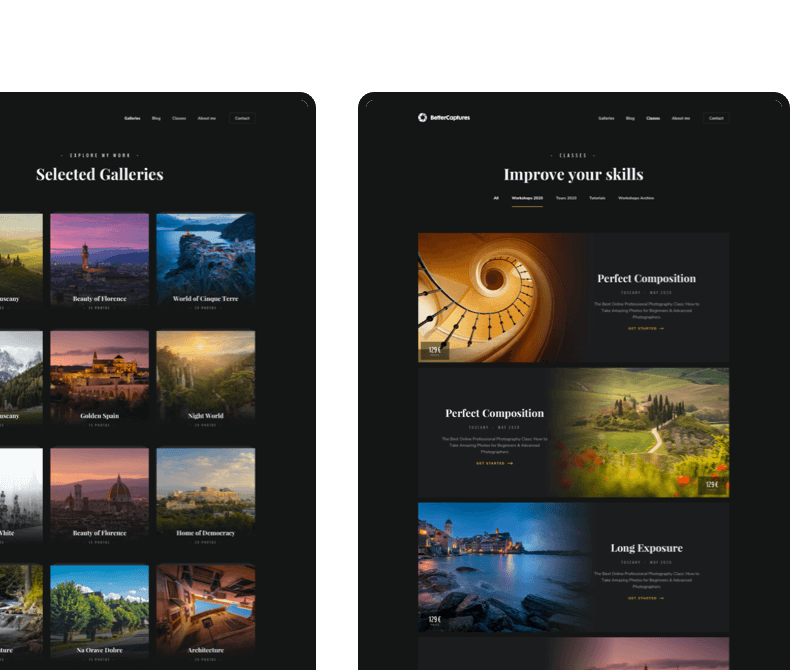 Unique design
Our platform is available only for world class artists and photographers, making it extremely unique
Your own blog
When you are ready to write some articles, the blog functionality is enabled for you to use at any time
Gallery categories
Your portfolio will be clearly organized in galleries, so your visitors will never get lost; also you can choose one or two columns layout grid for each gallery
Classes & workshops
We prepared a special type of article that allows you to optionally set a price, place or date so you can offer special services
Simple admin
The administration of our platform is extremly easy; we will help you with entire setup to allow you to build a beautiful website without any struggles
Variable data storage
The number of pictures you can upload is basically unlimited, but if you host it with us we do not recommend to upload more than 5000 photos
Custom domain
You can run your website on a custom domain if you own one; if you do not need a custom domain we will provide you an address with your name on our platform
- Bettershotz plans -
Choose the best plan for you
Hosting & maintenance
$1290 one time
+ $90 monthly
Up to

5000 photos

Secure hosting with backups included

Automatic

system updates
Website at custom domain like

https://www.example.com

Optional help with all the

setup for $990
Host it by yourself
$1590 one time
no other payments
Number of uploaded pictures limited only by your server

Host it on your server by yourself

Manual system updates

Website at custom domain like

https://www.example.com

Optional help with all the

setup for $990
Create your professional website quickly without any struggles. Just select one of our beautiful designs, change predefined texts, upload your photos and thats it. You are all set to show your portfolio to the world.
Frequently asked questions
1. Is it easy to build a website?
Well normally it requires lots of experience, which is why we build this platform for you. All we need is a few sentences, your logo and a set of photos you want to upload. After that we will prepare the whole website for you and explain the administration for further management.
2. How to setup a custom domain?
You must be the owner of the domain you want to use. After that we will send you a simple guide on how to finish the setup. If your are not the owner of the domain we can also help you to buy it.
3. What about licenses, cookies and other policies?
We are not responsible for any issues regarding licensing, privacy and other policy. Our product is available world wide so be aware of your country's policy. We are here to give you advice, but we are not able to be aware of all the rules around the world. Also be careful about licensing, basically anybody can download your pictures from the website, so we recommend putting your watermark on every picture before uploading.